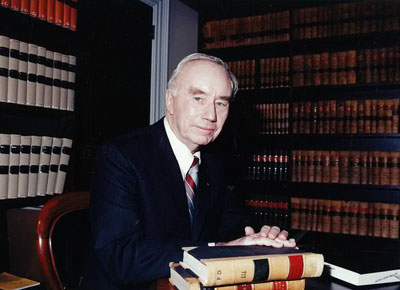 Len King
---
Leonard James King AC QC ("Len King", 1 May 1925 – 23 June 2011) retired as the Chief Justice of South Australia, following a legal career distinguished both by high achievement, hard work and genuine contribution to the law and the legal community.

He served as the Attorney General between 1970 and 1975, before his appointment as a puisne judge of the Supreme Court of South Australia.

On 30 October 1978, he was appointed Chief Justice of South Australia and he remained in that role until his retirement from the Court on 28 April 1995, at which time he was succeeded by the Honourable John Doyle AC QC as Chief Justice.

During his career as a judge, Len King was regarded as an erudite jurist, capable of distilling complex legal principles into pithy judgments that explained the law in a manner capable of comprehension by all members of the public. He is one of the few judges of a State judiciary whose judgments continue to be cited regularly in the High Court of Australia.
Upon his retirement as Chief Justice, Len King sat in the Supreme Court of South Australia and the Supreme Court of the Northern Territory as an auxiliary Justice for many years.
Amongst South Australia's legal community, Len King was revered for his skill as a lawyer and remembered for his compassion and understanding as a judge.
The founding members of Chambers wrote to Len King on 1 February 2010 requesting his permission to establish "Leonard King Chambers".

On 8 February 2010, Len King replied to the letter in the following terms:

"I have your letter of 1st February requesting my permission to use my name in connection with your new barristers' chambers. It gives me great pleasure to accede to your request.

I may say that enquiries which I have made since receiving your letter have yielded only favourable comments about your abilities and ethical standards. They give every reason for believing that your venture will be successful.

I would prefer that the chambers be called Len King Chambers as throughout my professional career I have been known by that name.

I wish you every success in your venture and future careers at the bar."

"Len King Chambers" formally opened on 1 March 2010 and was originally located at 134 Wright Street, Adelaide.

With the expansion of Chambers, we are now relocated at Level 6, 185 Victoria Square.